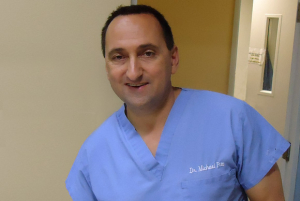 Dr. Michael Pitt is the owner and medical director of Mid Valley Veterinary Hospital. Since 1996, Dr. Pitt has successfully opened and operated four veterinary hospitals, specializing in animal emergency and critical care.
Born and raised in Los Angeles, Dr. Pitt received his Bachelor of Science degree in Chemistry from California State University at Northridge. He graduated from the School of Veterinary Medicine at Iowa State University. After graduation, Dr. Pitt returned to California to complete a formal internship at All Care Animal Referral Center in Orange County.
In addition to presiding over his own veterinary practice, Dr. Pitt served as medical director for the SPCA in Los Angeles for three years. He is a consulting veterinarian for the Los Angeles Police Department Canine Unit and is also a reserve police officer for LAPD Metro Division.