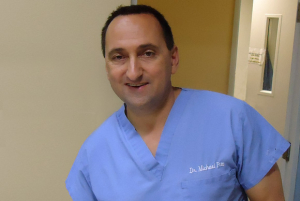 Dr. Michael Pitt is the owner and medical director of Mid Valley Veterinary Hospital. Since 1996, Dr. Pitt has successfully opened and operated four veterinary hospitals, specializing in animal emergency and critical care.
Born and raised in Los Angeles, Dr. Pitt received his Bachelor of Science degree in Chemistry from California State University at Northridge. He graduated from the School of Veterinary Medicine at Iowa State University. After graduation, Dr. Pitt returned to California to complete a formal internship at All Care Animal Referral Center in Orange County.
In addition to presiding over his own veterinary practice, Dr. Pitt served as medical director for the SPCA in Los Angeles for three years. He is a consulting veterinarian for the Los Angeles Police Department Canine Unit and is also a reserve police officer for LAPD Metro Division.
Dr. Pitt resides in the San Fernando Valley with his wife and their two dogs and two cats, all rescues.
Dr. Hanteak Oh completed his Bachelors degree in veterinary medicine and surgery at CBNU in 2005. He went on to complete his Masters degree from the same university before he came to the United States to pursue his passion for treating animals.
He further earned a ECFVG degree from AVMA after completing Basic and Clinical Sciences Examination (BCSE), Clinical Proficiency Examination (CPE), The North American Veterinary Licensing Examination (NAVLE). He believes strongly in the power of preventative medicine and has a special interest in soft tissue surgery.
Outside of work, Dr. Oh can be found snowboarding away the winter season, feeding him inner foodie around the city, and making the most of what the city has to offer with his wife.
Dr. Oh is a member of the American Veterinary Medical Association, California Veterinary Medical Association, and Southern California Veterinary Medical Association.